STUDENT STORIES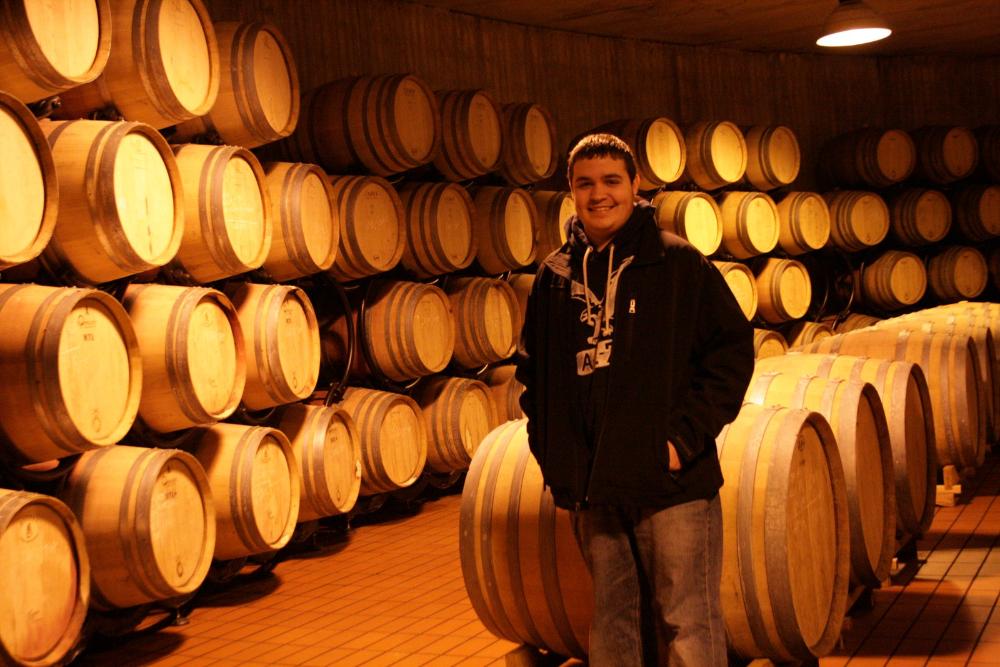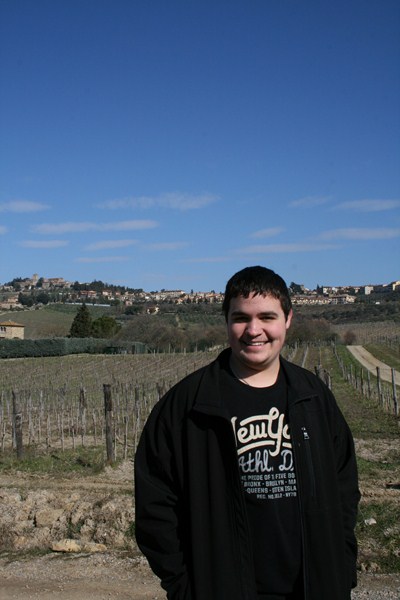 Payton Strobel, studying in Perugia Italy, Winter 2013
The Most Famous Butcher in the World: Sustainable Meat in Italy:
Saginaw Valley student abroad in Italy looks at the possibility of 'greener' meat
February 18, 2012

PANZANO IN CHIANTI, Italy — "Sono Dario Cecchini, e ho 250 anni (I'm Dario Cecchini, and I'm 250 years old)," joked Dario Cecchini, whom the LA Times calls "the most famous butcher in the world."
Saginaw Valley State University student Payton Strobel and his fellow Umbra Institute students visited Cecchini's butcher shop in Panzano in Chianti, a small town in the foothills of Tuscany, on a field trip for the class Sustainability and Food Production in Italy. Students learned about real-life sustainability while they ate a meal composed of parts from an entire cow.
"The field trip was a great opportunity to reinforce themes we've talked about in the classroom," said Professor Zachary Nowak, the Umbra Institute Food Studies Program Director, explaining: "Local food will not always have the least embodied energy, meat can be 'green' if it's grass-fed, and tradition should help us with current problems, not shackle us to an idealized past."
Cecchini provided a real-world example of Nowak's lessons, though he does not fit the stereotype of a small-town Tuscan butcher. Sporting spiked hair, a bandana, and crocks, he is just as likely to play AC/DC or Led Zeppelin on his stereo as Vivaldi.
Using a modern take on

yesterday

's traditions, Cecchini's philosophy rests on "the whole cow approach."
"My father was a butcher, but I never had a steak until I was 18," Cecchini explained. "We ate what was left over from the butcher shop, and my parents used peasant recipes to turn these cuts into tasty dishes, instead of throwing them away like most butchers do now. The whole cow menu: That's conservation, that's sustainability, that's delicious, and that's what we need to do."
Cecchini's comments coincide with the Food Studies Program curriculum, which encourages students to consider the basic questions about what we put in our mouths. What are the food's origins? Is it important that it be "local" or "organic?" What do these labels mean?
Strobel said

Friday

's field trip changed the way he perceived food.
"(I learned that) sustainability does not always mean local," Strobel said. "It's how you use your surroundings. We need to be responsible when eating and also have respect for the animals we are eating. We can't take a life and only use half an animal."
One bus ride later, Strobel was back at the Umbra Institute, an American study abroad program located in Perugia, the central Italian city known for its chocolate and 35,000 university students.
Selling Green Wine: Not Just for Dr. Seuss
Saginaw Valley student in Italy Payton Strobel helps an Italian winery enter the American market with its new "eco-wine."
Saginaw Valley student Payton Strobel stands in the Montevibiano wine cellar after a tour around the eco-winery in Montevibiano, Italy, on a field trip for the Umbra Institute Food Studies Program.
MONTEVIBIANO, Italy, Jan 28, 2013— Saginaw Valley student Payton Strobel, along with fellow students, visited the winery in the hills above the Tiber Valley on Friday on a field trip for their course, The Business of Food in Italy.
The course focuses on the business of producing and exporting wine and is part of the Umbra Institute's interdisciplinary Food Studies Program.
This semester students will build on a service learning project started by last semester's class. Students will help Montevibiano Winery write a pitch for an American wine importer, including how to market the "green" wine in the U.S.
About the Food Studies Program:
The Food Studies Program is an interdisciplinary curricular concentration at the Umbra Institute, an American study abroad program located in the central Italian city of Perugia. Often called a "big university town in a small Italian city," Perugia is the ideal setting for studying food, business, and sustainability. For more information about the Umbra Institute or its Food Studies Program, contact the assistant director of the Program, Zachary Nowak (znowak@umbra.org).